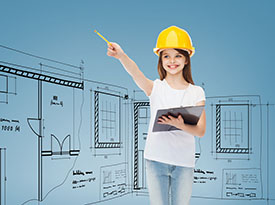 A Structural Engineering, Architecture and City Planning Camp
Are your kids the ones who:
Have covered every square foot of your house with his or her construction projects?
Refuse to let you take any of them apart?
Would rather watch construction crews at work than go to the movies?
Then, they'll LOVE Cityscapes! They'll build and build and build - and your house will still be tidy when it's all done.  Better still, they'll be learning all kinds of hard-core engineering and physics while they're having the time of their lives. This camp will take the kids through the entire process of designing and engineering all sorts of structures.  They'll learn about structural engineering, architecture, city planning and transportation planning.  Then, they will be given a specific challenge to build in Sim City. Then, on the last day of camp, they'll put it all together.  Our campers will work together to plan out their own city, lay a city grid out across the whole room, apply for building permits, receive plots of "land" and build the city of their dreams – their own Cityscape!
What's on The Menu
Forces & Motion in Structural Engineering – That sounds really techie, doesn't it? What it really means is that we'll be studying what makes structures collapse...and how to prevent it.
Hands-On Testing – We'll be checking out loads, compression, tension and the other forces that act on structures.
Materials – Structures are only as good as the stuff they're made of; so, we'll learn about the materials that engineers and architects use, and then you'll test out a variety of materials for building a dog or cat house.
Structural Integrity – Learn what keeps structures standing.  Important, right?
Strong Footings – If a structure is going to stand long, it has to be anchored to solid ground – which sounds easy, but it isn't.  You'll learn just how challenging that is while building your own tower.
Bridge- and Tunnel-Building – Next, you're going to learn a bit about bridges, tunnels and their various designs.  Then, you're off to prove you're a master builder by constructing your own weight bearing bridge and ground-supporting tunnels.
Architecture and Design – An introduction to amazing structures
Design a Series of Structures – Put all that new knowledge to work while designing and building a dome to house one of your team mates. Try your hand at other common building forms.
Draw Like An Architect – If you're going to "boss around" all those engineers and construction workers, you've got to have a way to tell them exactly what you want.  That's where drawings come in – learn how to do bubble diagrams, elevation drawings and floor plans
Create Your Own Park – Work with your team to scope out the requirements, design and build a model of your dream park.
City Planning – With the help of city planning experts, you will learn what makes a city a great (or miserable) place in which to live, work and play. Then, you will work in teams to lay out your dream city on paper.
Transportation Planning – Next, we will have transportation experts join us to discuss how you will move around all the "stuff" that cities need to move – commuters, kids on their way to school, groceries on its way to stores, trash on its way to the dump, etc.
Design & Build a City in Sim City – Now, it's time to put the skills you've learned to work. After a quick tutorial on the Sim City software, we will pitch several design challenges like "design a city with great public spaces" at you.
Build the City of Your Dreams – This is where you show off your skills!  You and your fellow campers will turn the classroom into the city of your dreams. Whether you choose to build a hotel, a waste treatment facility, an amusement park or one of a thousand other structures, it's your job to make it the best possible for all the people living in your city.  (Parents, siblings and grandparents are welcome to come, see what the kids have done and enjoy the show!)